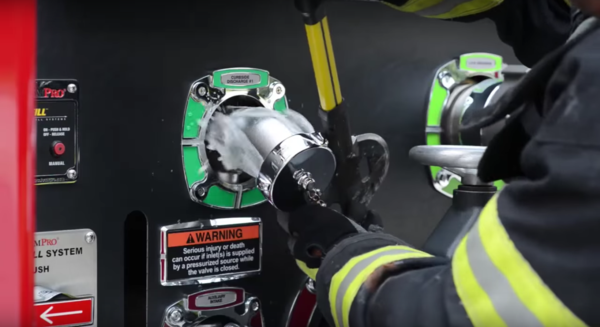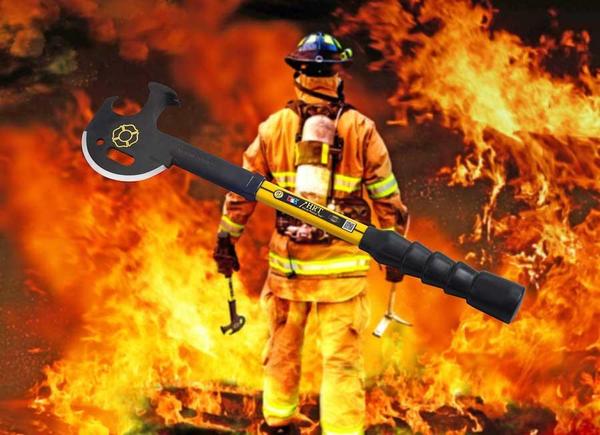 The Handy Rescue Tool?? is a reliable and versatile yet lightweight tool intended to bridge that gap between small pocket-sized tools and large heavy ones used in today's fire service. Backed by a Lifetime Warranty, this made-in-the-USA product meets all 4 categories of a fire department forcible entry tool. The HRT?? includes an axe (fully resharpenable), hammer, nail puller, hose spanner, pry bar, gas cut-off wrench, grapple hook, shock absorbing powergrip???, cast alloy steel blade and shank and a rust-resistant matte finish.
The compact size of the HRT with the (optional) sheath/shoulder strap sling allows the HRT to be carried hands-free and quickly deployed during interior firefightring operations. It's truly the "fireman's friend".
Special features and applications include:
Slicing vehicle glass

Chisel cut sheet metal

Striking tool

Force windows and doors and hasps

Chop drywall

Pull lathe and wires

Make easy inspection holes

General overhaul operations

Glass breaking tool

Door stop
Now with FREE SHIPPING in the US!
Meets all four categories for a fire department forcible entry tool
Reliable, versatile, and affordable
Lifetime replacement guarantee
Made in USA for police, firefighters, and rescue workers
All-in-one hammer, nail puller, reinforced pry bar with lever, wire twist, tire chain hook, grapple hook, hose spanner, and fully resharpenable 4.5" curved axe head

Gas cut-off wrench
Shock-absorbing PowerGrip
Materials: cast alloy steel blade and shank, heat treated for extra strength
Non-conducting fiberglass handle
Rust-resistant matte finish
Temporary blade guard included
Dimensions: 19.25" x 5" x 1.25"
Weight: 2.24 lbs.
Made in the USA: Parowan, Utah
To prevent rust, keep the tool stored in a dry environment. Apply a thin covering of light machine oil to the head of the tool with a cotton cloth, giving it time to be absorbed by the finish. Wipe off any excess. Apply new oil when needed.
If rust occurs on the surface of the tool, it can be removed with fine steel wool and light machine oil.
For both safety and utility, it is important to maintain the sharp edge of the HRT. After repeated heavy use, the blade may begin to dull. If this happens, use a metal file to re-sharpen.
CAUTION: Safety goggles are recommended when using the HRT.
??
---
---
---